Sneak Peek: Peake Ranch Winery
It doesn't take much convincing to get me venturing On the Trail with Kate on my day off, especially when it means being surrounded by beautiful vineyards, drinking fabulous wines, and connecting with some cool people.
For part two of this trip we headed over to Peake Ranch Winery in Sta. Rita Hills. I first heard about these wines only recently, over the summer at one of our K&L wine dinners. I was seated at a table with owner John Wagner, who spoke of a winemaking facility he was building at the original Sanford Winery site. A relatively new label with just a few vintages under its belt, it has already gained some very favorable reviews for its Chardonnay, Pinot Noir and Syrah. We carry these wines at the store but admittedly I didn't know much about them. Curious, I reached out to John who connected me with his winemaker, Wynne Solomon, and we confirmed our visit.
Kate and I cruised our way around Santa Rosa Road, admiring the beautiful fall colors that coated the vines. We made our way up the hill to the Wagner residence where we were warmly greeted by Wynne. As we made small talk, the vineyard dogs, Daisy and Emily, eagerly bounded toward us, followed by John and his vineyard manager, Mike Anderson and their guests, Matt Kettmann, Central Coast and South Coast editor for Wine Enthusiast, and noted photographer Macduff Everton, whose stunning images can be seen in National Geographic, Life Magazine, and Saveur, to name just a few. They were collecting content for a new collaborative project, Vines and Vision, a book profiling the wineries, vineyards and winemakers of Santa Barbara County. (Due for release next year, you can learn more about the project and how to get your own copy here.) We exchanged pleasantries and John suggested it was time for us to drink wine. Twist my arm.
Sommelier and winemaker, Paul Lato, was the lead winemaker at the start of this project through 2017 and on board now is a bright, emerging talent in Wynne, who studied wine and viticulture at Cal Poly. Before starting with Peake Ranch she was recently making wine alongside Chad Melville for Melville Winery. Wynne takes the lead for the 2018 vintage at Peake Ranch and will inaugurate the facility when it opens in 2019.
We were led through a tasting of single vineyard and estate wines from the 2015 and 2016 vintages. As we sipped through the lineup, I noted how sexy and expressive the fruit was and how the wines were still so elegant and balanced. I kept thinking about the unfortunate bad rap that marks California wines as being so overdone. I know plenty of them exist – I've had my fair share - but I've also had some excellent, well-crafted wines from this state. And these Peake Ranch wines from California are damn good. Check these out, available in our Hollywood location:
2016 Peake Ranch Santa Barbara County Chardonnay (fruit sourced throughout Santa Barbara County)
2016 Peake Ranch Sta.Rita Hills Pinot Noir (John Sebastiano vineyard)
2016 Peake Ranch "Bellis Noir" (50% Grenache, 50% Syrah from John Sebastiano vineyard - and a personal favorite)
The sun was starting to set so we filled up our glasses and made our way down a short dirt road to view the progress of the new facility. If you haven't been here for awhile, either when it was the original Sanford Winery or Alma Rosa, know that a lot has changed since it was that cozy shack surrounded by vineyards with a charming little creek (which has long since dried up) around the back of the building. In front of us now was a grand, stunning building that will house a state-of- the-art winemaking facility, and a hospitality centre complete with tasting area and outdoor fireplace. It's pretty impressive even in its unfinished state. I can already see myself relaxing near the fire, glass in hand, enjoying the company of good wine and friends. The original tasting room still stands and is preserved as an historical landmark. As for its place in the new construction, I am not sure but for now it currently houses Wynne and Mike's office.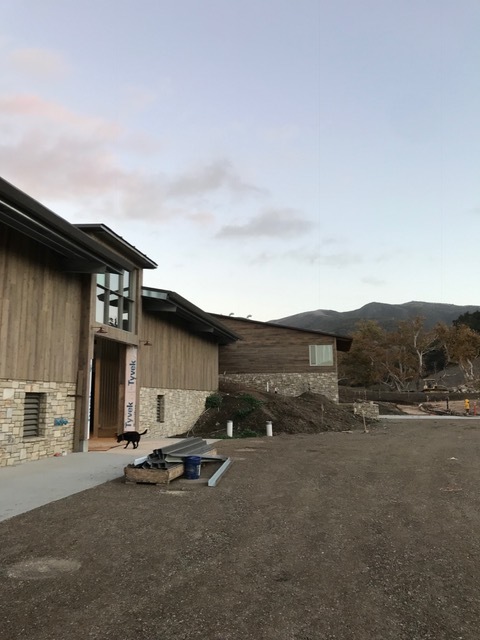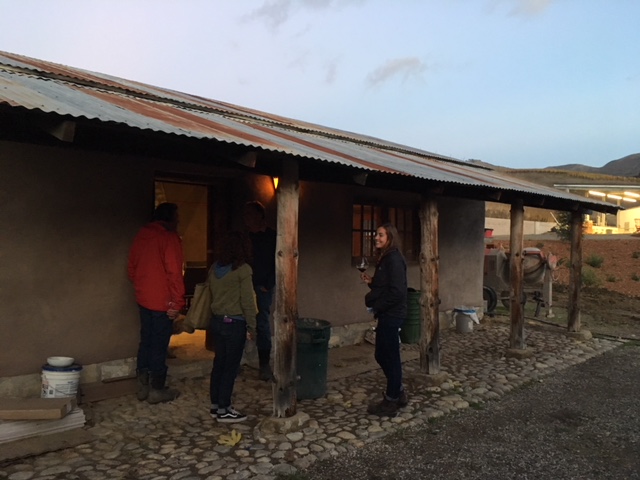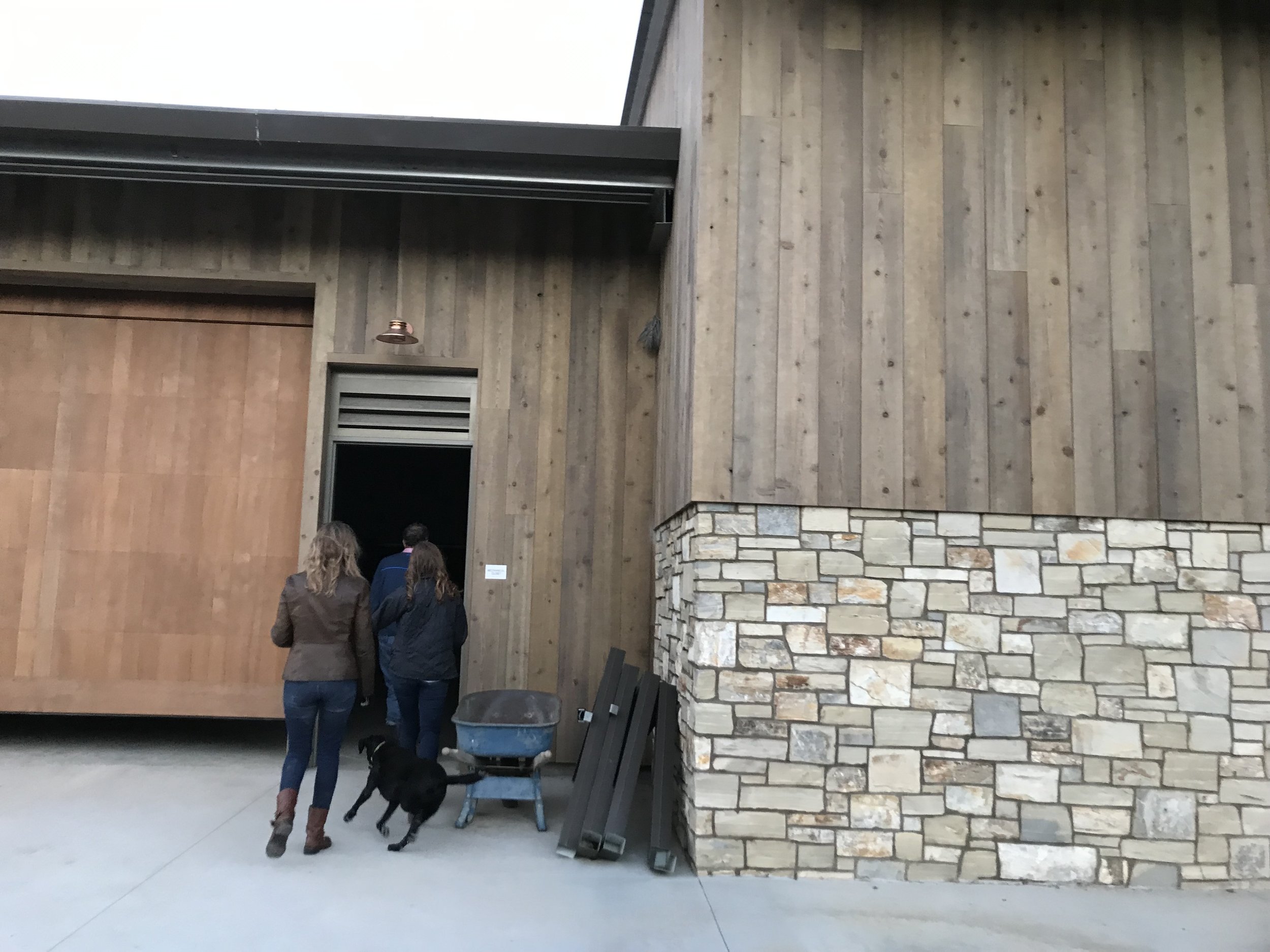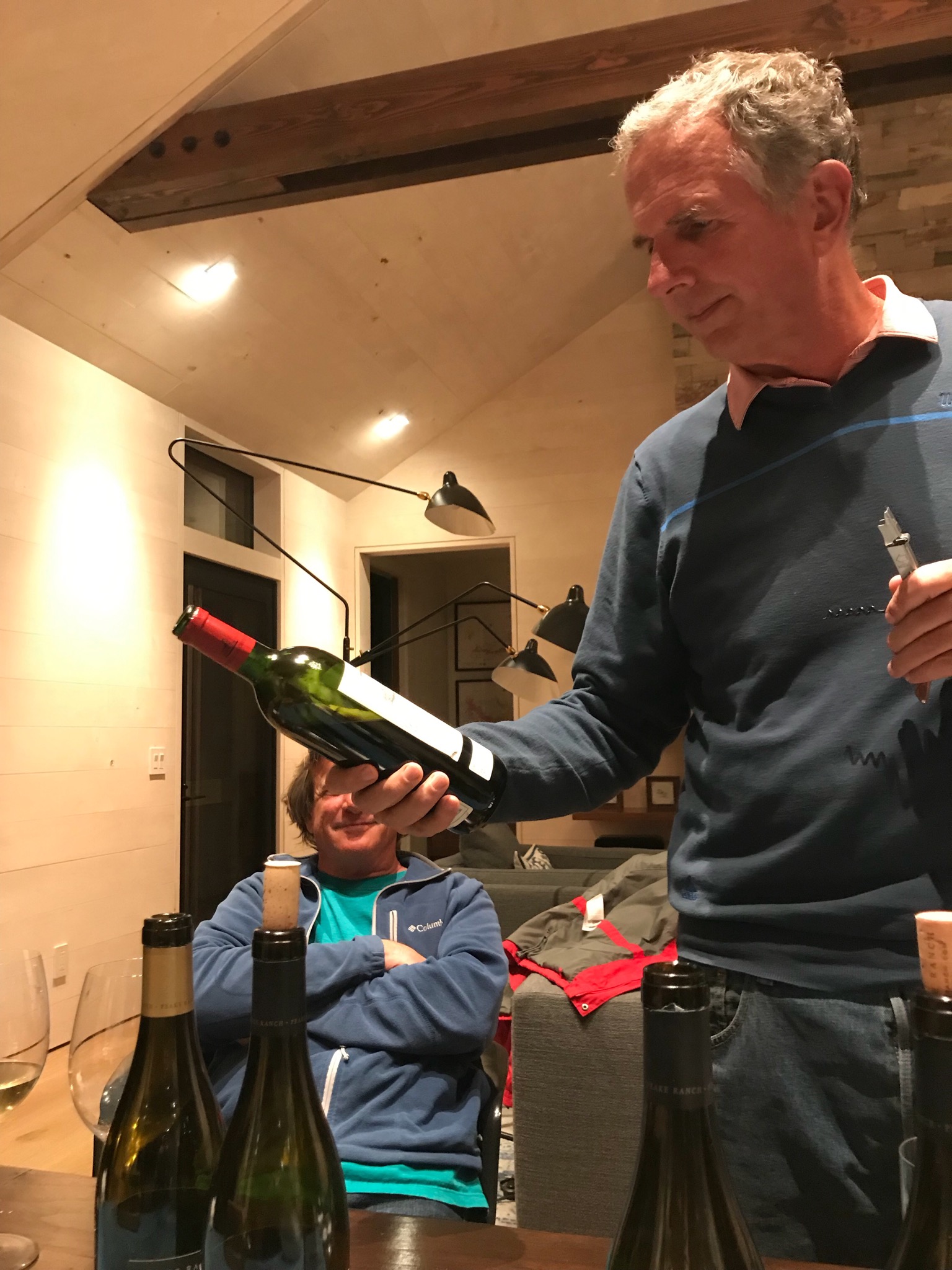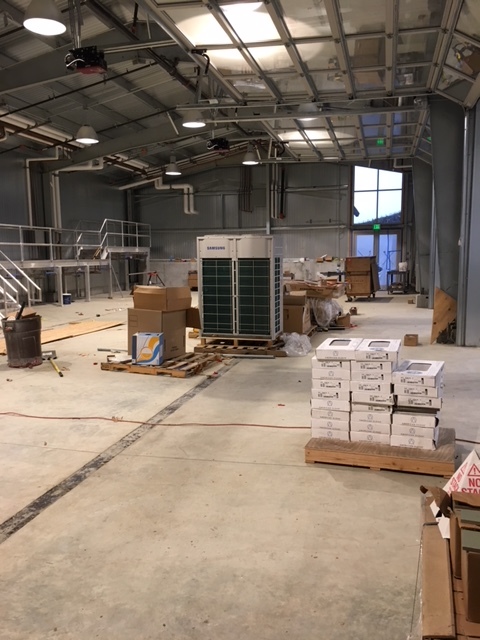 It was becoming too dark outside to tour the vineyards so we made our way back to the house, refilled our glasses and carried on, Mike sharing his insights about vineyard management and winemaking while we enjoyed some takeout pizza. What was intended to be a two-hour visit stretched out to a spontaneously extended evening of entertaining and thoughtful conversation with some super cool people who are clearly passionate about what they do.
Keep your eye on Peake Ranch Winery and Wynne Solomon. Personally, I am excited to watch the progress of this venture with a young, female winemaker continuing to make her mark in this business. The opening of their new facility is scheduled for early 2019 and Kate and I will be hitting the road once again to report back. An enormous thanks to John, Wynne and Mike for the wonderful hospitality, the generosity, and for making this such a memorable visit.